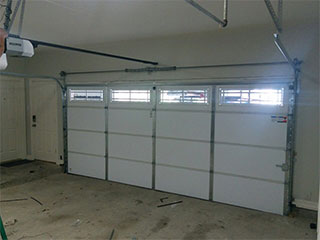 If we had to pick the most intelligent part of your automatic garage door system, we'd choose the opener. This complex unit needs to synchronize perfectly with every other part of your door. It's not just responsible for moving the door up and down, many of the features also serve to make your system safe to use, like the safety sensors and the auto-reverse function. This is why when something goes wrong you'll want to get it resolved as soon as possible. Our experienced technicians can help you find a solution to any problem you're experiencing.
Fixing Opener Problems
When you consider how many parts your opener is connected to, it's not surprising that it can develop a wide range of different faults. From glitches in the circuit boards to broken wires, damaged trolleys and drive gears, a malfunctioning opener is likely to require some troubleshooting. Our experienced technicians have worked with every make and model there is, and will be able to pinpoint the root cause of your issue. We usually bring replacement parts with us, allowing us to swap out damaged components if necessary.
Installing A New Opener System
There are a number of new openers on the market these days. Our team can provide professional installation services to help you get up and running. We'll ensure the new unit is securely fastened to the overhead blocking before connecting the rails and trolley to your door. We'll also perform thorough testing to ensure your new opener works perfectly from day one.
Choosing A New Opener
There's a huge variety of opener units to choose from, which can make it hard to decide which one to go for. Our team will guide you through the process, explain the differences between belt drives and chain drives, and highlight any additional safety features that you might wish to opt for, such as rolling remote code technology. In summary, we'll help you make an informed decision, so you can be confident you're getting the perfect new opener for your home.
Schedule An Appointment Today
For expert opener repairs, installation and maintenance services, contact our team at Garage Door Repair Oceanside. Our technicians are standing by – just get in touch to find out how we can help you.
Need more? We also provide:
Emergency Garage Door Services
Broken Garage Door Track Repair
Genie & Liftmaster Opener Services
Liftmaster Chain Drive Lubrication