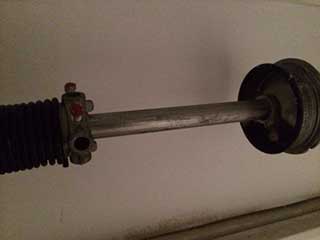 Your springs are among the most important components of your overhead garage door system. Using either a contracting and expanding motion, or a twisting action, these components are responsible for the heavy lifting of your door. They're subject to a lot of pressure with each use meaning they can wear down over time.
Maintaining Your Springs
Garage door springs can be notoriously dangerous if they develop problems but proper servicing and maintenance can decrease the likelihood of spring related accidents and malfunctions. Our technicians are on hand to perform any tension level adjustments, as well as spring lubrication and visual inspection to ensure these parts haven't become overstrained or significantly worn.
Torsion Vs Extension Types
Torsion springs are installed horizontally across a metal bar above the door, usually as a singular component. As the bar rotates, it causes the spring to twist, and lifts the door using torque motion. Extension springs, on the other hand, usually come as a pair and are normally situated either side of the door. The springs extend as the door closes and contracts when the door is being opened. If you're in need of a spring replacement and aren't sure which type to go for, we can help. Usually we recommend a torsion spring for larger or heavier than standard doors.
The Dangers Of Spring Installation
You may be tempted to handle your springs yourself when things go wrong, however we would strongly advise against this. When a spring suddenly snaps, the tension that has been previously stored gets rapidly released, potentially causing damage and injury. A broken spring may also end up fully releasing the door if it's already in motion – in this case, it will slam down fast. We highly recommend getting in touch with one of our professionals to assist with any repairs or replacements needed– why risk injury or further damage!?
Call Us
If you have any concerns regarding your garage door springs, or need an emergency replacement, don't hesitate to call our experts at Garage Door Repair Oceanside. Get in touch today!
Count on our team for:
Roll up Garage Door Maintenance
Garage Door Off Track Repair
Screw Drive Opener Replacement
New Opener Remotes & Clickers